Centers of Excellence are popping up all over the place in the corporate world. What does that term even mean? How do you know you are not only excellent, but at the center? Who do you bring in? Who do you leave out?
When I landed at Delta Dental of California, CX was still in its infancy at the company. A voice of customer program had been set up, and some relationship and transactional surveys were underway. Two employees were ready to report to me on day one: a seasoned program manager and a customer advocate. After getting the lay of the land, I had two other budgeted positions I needed to fill, so I set to work determining the most important backbone roles this team needed.
I approached building the team as one would do in building a house. You need a solid foundation of pillars to keep the house standing. My program manager already had CX chops, so I enlisted him to help me sketch out the other pillars. Our customer advocate really was the walking and talking voice of the customer, as she had come from 13 years in the call center. She could close the loop in her sleep! What she needed were better tools to help her analyze our VOC more efficiently, but the topic of tools will have to wait for another blog post.
With VOC and cross-functional program management already established, I turned to the next two pillars. At the time, there were random acts of journey mapping occurring in silos, so my next hire was someone to introduce journey mapping as a discipline across and among various teams. Dental insurance has many "customers." Members, benefits administrators, dentists, dental office staff, brokers — it's a complex ecosystem. The idea was to have living, breathing journey maps that would tell the story about how all of these stakeholders interacted with one another, and most importantly, reveal where in the journey breakdowns were occurring.
The other critical pillar was someone whose sole purpose was to care about the employee experience and drive a customer-centric culture. Luckily, the ideal person literally sat next to me: she was the VP's temporary Executive Admin. I strongly believe that mindset is the most important characteristic of a good hire and the rest can be trained. Having an empathetic liaison to the People Organization meant that we could influence an increasing emphasis on making the culture more customer- and employee-centric.
Thus, my OG core team was born! We reached out to various areas of the organization and started to build the discipline around telling data-driven customer stories in order to get buy-in for our suggested improvements.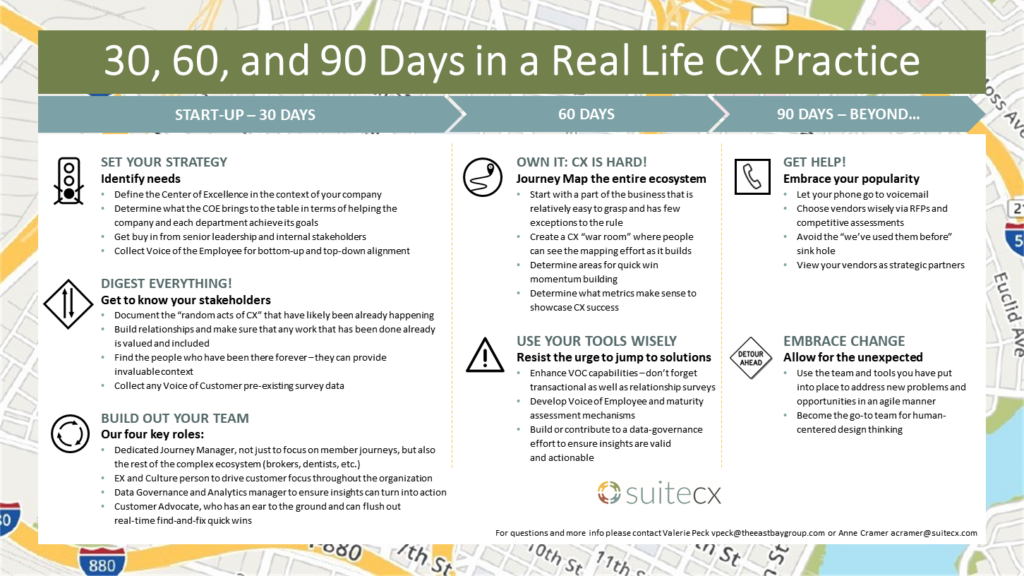 The next year brought some re-org changes, but my team had proven its worth enough to warrant an additional five hires. How to shore up my already-awesome pillars? Some stout oak support beams were needed:
A data analyst would help us prove in a statistically significant way what the drivers were behind in satisfaction and NPS scores.
Journey mapping was in high demand, so I added two journey mappers for a total of three people focused on mapping the entire ecosystem, one stakeholder at a time.
Months of great work required a knowledge manager to keep everything organized and help us keep all the plates spinning. This person would also serve as a researcher to fill in any knowledge gaps.
Finally, we needed to tell our own story. My final hire was an internal branding guru who would help us to share wins and learnings across the organization.
Some CX teams own the VOC work, but in our case, that team sat in marketing. However, VOC data was crucial in helping us to design business cases and make compelling deliverables. Closing the loop projects allowed us to not only fix broken processes internally, but also reach back out to our customers and acknowledge their feedback.
If I were to point out one lesson learned from this experience, I would suggest that the internal branding become a fifth pillar. Our work was recognized and appreciated by our closest stakeholders, but there were entire parts of the organization that still didn't know the value that we brought to the organization. We were busy telling our customers' stories, but dropped the ball a bit in telling our own.
Hopefully, this approach to building a CX Center of Excellence can be useful to others who are just starting out. I was extremely fortunate to build a high-performing, cohesive team that truly moved the needle. Excellence was in the work and the commitment, not just in the title.