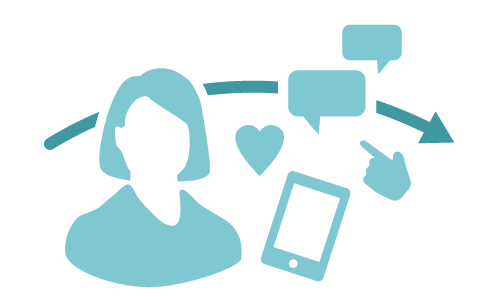 Customer Journey Mapping
---
Customer Journey Mapping (CJM) and Infographics are powerful tools for envisioning, designing and visualizing a holistic experience from the customer's point of view. CJMs and infographics enable the team and its executives to gain a clear understand of the future experience in intuitive pictures. It enables teams to collaborate on a central vision and put themselves into the minds of customers. It helps them to see every interaction for its own (inclusive of channels, data and even emotions) as well as see the interactions in concert.
Traditionally, creating CJMs was a manual process, subject to endless "node complexity" where the cross tabulation of channels, interactions, segments, etc., created a tedious, unconnected cataloging effort. The design conventions were often reinvented every time.
SuiteCX changes this by providing an array of CJM visualization templates and tools with all interaction and segment information kept in a centralized database, coordinating and streamlining the efforts of large and diverse CX teams however and wherever they choose work.
SuiteCX enables users to capture and visualize a wide combination of emotional, functional and data-driven customer information. It allows you to use words, iconography and images to create the base map. There are over 20 different mapping visualizations available, allowing you to find just the right visualization for your customers experience.
Once you have the base map you can easily and quickly attach collateral and data to tell your customers' stories, from high-level overviews of customer lifecycle stages to granular inspections of processes and interactions. You can compare current state and to be states, processes or data flows that drive the experience taking the maps from brainstorm to UX or solutions design level in one place.
Our unique IPoints act as data collectors to allow you to note moments of truth, pain points, barriers as well as emotional states. They have the ability to hold and display measures as well as other performance data and ethnographic information.
SuiteCX goes further, though, in creating great, compelling Customer Journey Maps. The maps are alive with customer data, including sources from surveys (e.g., Voice of the Customer, Voice of the Employee, Voice of the Institution), interaction metrics (e.g., NPS, CSAT), big data analytics, segmentation data, clickstream data, and even operational data to measure how the actual experiences are performing over time. It takes the CJM to an entirely new level of power, usefulness and value.
Some of the features include:
Create an outside-in and comprehensive end to end map of all the touchpoints that a customer has with your business
Use the tool to capture work in real time in workshops
Attach information to the individual touchpoints
Create new versions of maps for different customer groups
Manage, amend and update the map
Include visuals in other documents (e.g., PowerPoint)
Print out high quality visuals quickly and easily
Track and measure the impact of changes over time
Once in place these maps become the inputs and basis for prioritizing customer experience improvements and the cornerstone for changes in people, process, marketing technology, and customer focused operational delivery.
Contact Us Now to Learn More