Like customer experience (CX) more broadly, there are a number of platforms that create the ecosystem of tools available to manage and understand their Customers' experience. The confusing part is that a number of tools all call themselves "Customer Journey Tools" which tends to muddy the market.
Here's what we see as the distinct market segments operating under the customer experience/journey banner:
1. Voice of the Customer/Survey Platform tools perform a valuable role in that they can both measure the customer in a quantitative and qualitative manner. They can have a cost-effective, consistent and programmatic approach that can be used over time for statistically valid research. They still require work as most are executed at the end of an interaction set. Most don't articulate the lifecycle that journey tools do but they can be readily dash boarded and also pulled into Journey Maps through both verbatim and emotion as well as scores.

Examples of providers are Qualtrics, Medallia, Survey Monkey and Confirmit
Usage objective – A pulse on the Customer – Dashboard for trends – Top/Bottom Box
Target user – Research, CX team
Resource and investment – Low to extremely high
2. Journey Strategy, Mapping & Management tools help create, deploy, and manage journey maps to understand, align around, and improve CX. They support a top-down or deductive approach for defining the journey and managing related insights and action plans. They focus primarily on enterprise, strategic level insights, and actions. They can inform Macro CX and Micro CX/UX. They still require work with broader BI and analytics engines for score/algorithmic response data and orchestration tools to drive the Micro Campaigns that are outcomes. In some cases, these tools are also used as light Content management solutions.
Examples of providers in this segment include Touchpoint Dashboard, UX 360 and SuiteCX.
Usage objective – Strategic alignment and prioritization – planning and scenario development for orchestration – consolidation of VoC/VoE/Behavioral journeys by segment or logical group.
Target user – CX and UX strategists and planners
Resource and investment level – Low to medium
3. Journey Analytics tools help analyze customer-level data from multiple systems to see patterns and draw conclusions about the customer journey (e.g., common paths, volume and friction points). They support a bottom-up or inductive approach to defining the journey and uncovering related insights. They focus primarily on insights derived from individual-level data. They still require qualitative and ethnographic research to understand WHY these behaviors are happening.
Examples of providers in this segment include ClickFox, NICE and Pointillist.
Usage objective – Path analysis and optimization understanding customer behavior (primarily digital) to see where breaks and pain points are occurring.
Target user – Data analyst
Resource and investment level – High
4. Journey Orchestration tools help apply customer-level data from multiple systems to drive real-time interventions and optimizations in the CX (e.g., next best offer). They focus on individual-level CX delivery rather than on defining and understanding the journey.
Examples of providers in this segment include KitewheelKitewheel and Pointillist. They still require strategy, planning, creative, offers to fully deliver on their mission.
Usage objective – Automated journey delivery optimization and marketing/web/email campaigns
Target client – Marketing, digital operations pros
Resource and investment level – Medium to high
5. CRM tools. CX and customer engagement are now standard to the thinking of "CRM" companies. Eighty percent of all submissions for a recent ZD net report focused their efforts on proving customer experience and customer engagement, not CRM. It permeated everything they wrote and all that they offered. From the marketing, service and sales the pre-eminent theme was the improvement of the customer's experience. In addition, the actual technology portfolio, the platforms were being rejiggered or evolved or developed around engagement
Examples of providers in this group include Microsoft, Salesforce.
Usage objective – Automated demand generation, sales and marketing planning and execution
Target client – Demand Generation, Sales, Marketing, and in some cases services
Resource and investment level – Medium to high to extremely high
Naturally, there are points of overlap and convergence, but generally, we see these different types of tools meeting different needs for different audiences. One way we pull them apart, as we do above, is by thinking about their focus on enterprise vs. individual information and action vs. insight. The chart below plots the four segments accordingly.
Tool Audiences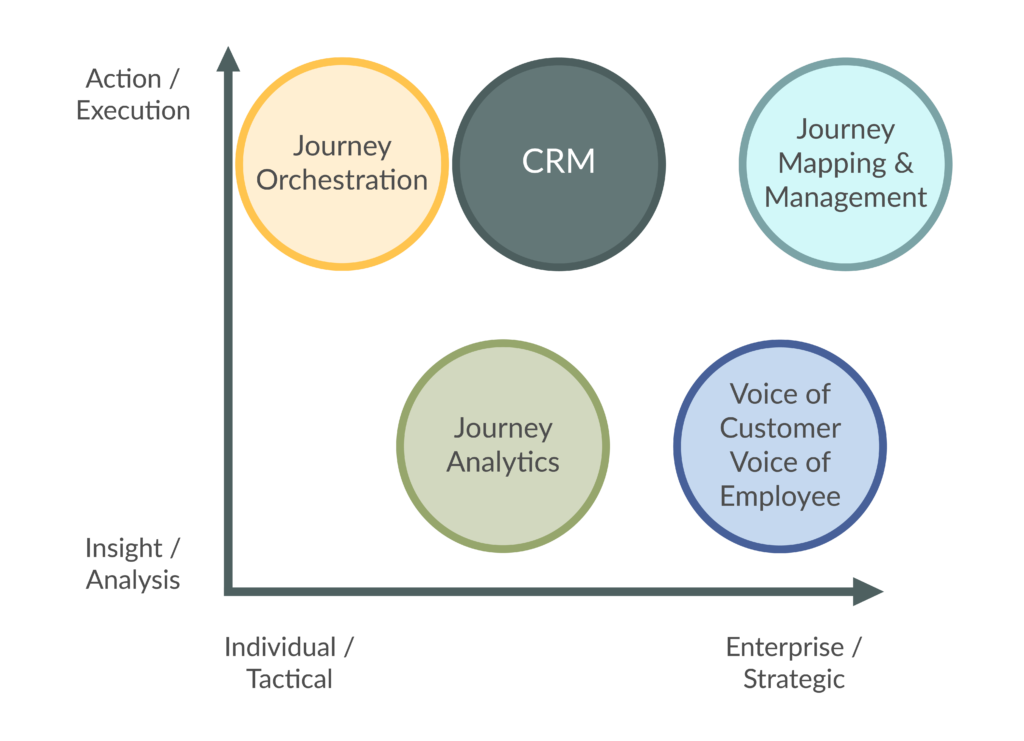 Journey Mapping & Management tools align the organization around an enterprise strategy and action plan, Journey Analytics tools identify issues and opportunities as they arise in existing journeys, and Journey Orchestration and CRM tools deliver optimized experiences to customers as they interact.
Toolset Synergies
Each has a purpose and place, and ideally, they flow and work together to enable a more customer-centric, experience and journey-based approach at all levels.
The CEM Solution Ecosystem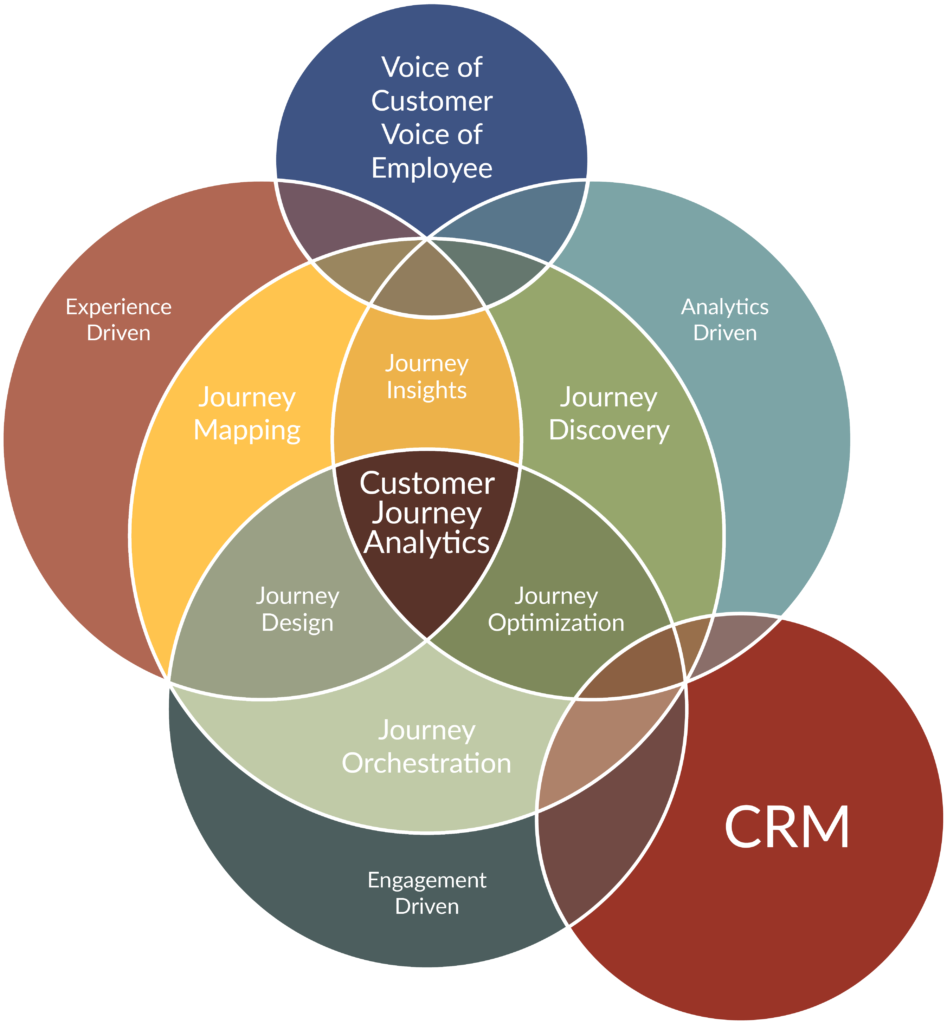 An Example of the Synergies:
SuiteCX and Kitewheel
SuiteCX is designed to strategically focus on the full company-wide customer experience across all departments (Sales, Marketing, Service, Procurement, Finance, etc.) and lifecycles (Acquisition, Retention, Growth, Advocacy).
Kitewheel focuses on execution, providing the transactional, decision-based interactions to help convert customers into purchases.
Functionality:
SuiteCX helps practitioners do the front end work of understanding customers deeply and insightfully. We help companies understand what is working/not working in the company (operations, people, data, technology, culture). We map the customer journey/experience at a touch by touch level (all channels digital and not) wherever and whenever it happens even if the company doesn't know its happening (C2C or Social). Our process guides practitioners to gather the voices of the customer, employee and company together with statistical elements, persona/segmentation data and recommendations for improvement. The process we call workflow sets SuiteCX apart by providing a complete assessment of the as-is state looking forward to either strategically or tactically changing the customer experience to improve company impact on the customers and revenue or decrease cost.
SuiteCX creates a complete picture of the customer needs and value to the company along with what the customer is doing, thinking and feeling assures the practitioner is fully informed to make decisions in the customer journey that improve the position of the company by department, channel, lifecycle and any number of user practitioner metrics.
Knowing all of this allows us then to create an initial map set of the most effective set of interactions/offers/image/messaging so that we can hand off to Kitewheel who then takes over and with this knowledge, creates and executes on heavy lifting that needs to foot to the logic that they build to support the execution of next best action and content.
Kitewheel then executes best journey available and collects the un-biased behavioral data from the nodes of the journey itself as consumers start and stop within the purchase journey to drive the optimization and edits that must be done in a test and learn scenario on the backside. Armed with both, information practitioners can craft customer journeys, set about A/B testing or plan communication as a process of continuous improvement.
Once a campaign is in execution mode, Kitewheel adapts to the behaviors that each prospect or customer goes through as they move down the 'path' that most interests them. Because it is highly adaptable and has the 'front end' right messages, offers, images, cross channel display options etc. it can 'follow' a prospect/customer until they complete their journey (preferably with a conversion to the next step).
SuiteCX maps the overall strategy and A/B test models along with optimal communication and messaging. Kitewheel maps a customer executable plan then executes it, Kitewheel and SuiteCX complement each other by providing a complete analysis and process design platform that allows for continual improvement.
The data from the campaigns is read back into SuiteCX so as to continuously learn and update assumptions, messaging, remove friction from the path (policy, pricing, messaging, offers etc.)
In this way the platforms support each other with very little overlap of effort but with maximization of each of the tools' core strength.